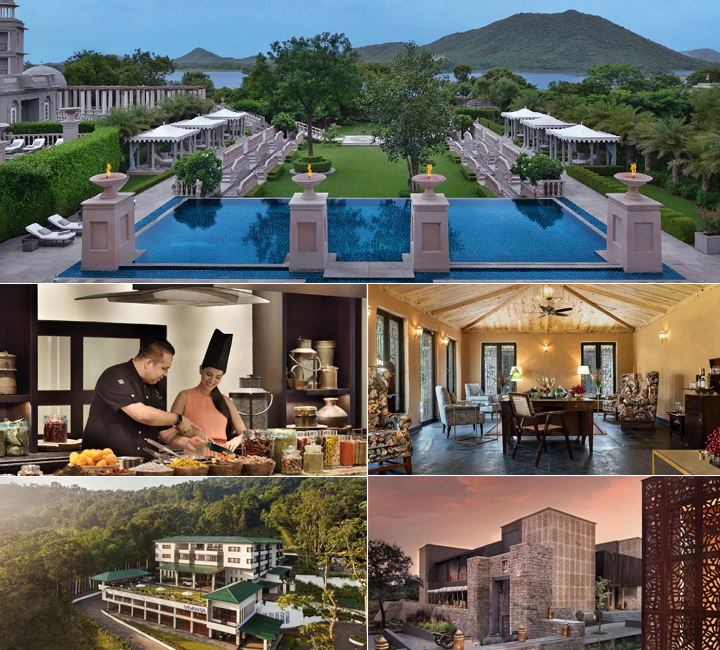 The benchmark for luxury continues to get redefined in India with leading hotel chains and independent hoteliers launching new luxury resorts in some of the most sought after destinations as well as places off the beaten track where luxury stay options did not exist. And 'luxury' now includes an all-encompassing experience for the guests right from the stay, the immersive activities to new dining concepts and eco-friendly initiatives taken by the resort and more.
In this year alone, we have had new luxury resort launches from Six Senses with its first property in India - the Six Senses Fort Barwara near Ranthambore, the Raffles chain from Accor also launching its first hotel in India in Udaipur, CGH Earth expanding its footprint to Andaman Islands with Tilar Silo, The Ultimate Travelling Camp extending its luxury glamping experience in Rajaji National Park in Uttarakhand and more.
Experience the next level of luxury in India at introductory prices. Speak to our consultants to plan your getaway to one of India's new luxury resorts.
Six Senses Fort Barwara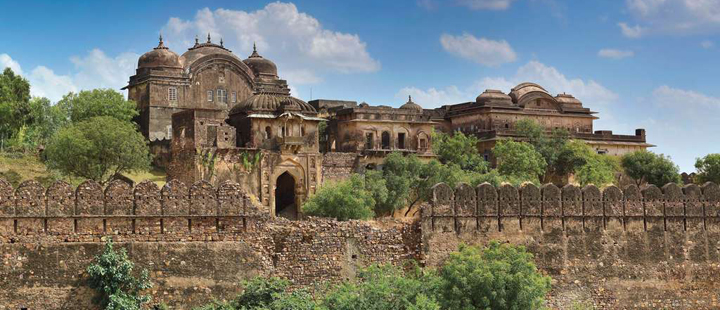 The first Six Senses resort in India is fittingly set in a beautiful 14th century fort in Barwara (2.5 hrs from Jaipur) that is now converted to a luxury sanctuary of well-being. The design of Six Senses Fort Barwara reinterprets the gracious and regal ambiance of a bygone era dating back 700 years. The resort includes two palaces, two original temples and 48 beautifully designed suites within the fort walls. There are three different restaurants where you can choose to dine, each offering innovative and seasonal menus curated by top chefs, emphasising locally sourced ingredients.
Starting from Rs 150,000 per couple including 2 nights' stay in a one-bedroom suite, all meals, complimentary Six Senses experience and wellness activities and taxes. Stay longer and enjoy additional inclusions.
Contact us at

[email protected]

for availability and bookings.
Raffles Udaipur

The enchanting Raffles Udaipur - the first Raffles hotel in India from the Accor Group - rests on a serene island nestled amidst the Aravalli Range and Udai Sagar Lake. Spread across 21 acres, the hotel is a private oasis for travelers seeking peace, calm and discovery. The 101 rooms and suites offer breath-taking views of the lake and captivating sunsets. Each of the 8 dining venues offer a treasure trove of culinary delicacies and intricately curated gastronomical experiences. Facilities include a luxury spa, plush swimming pool, an outdoor jogging track and a well equipped fitness centre.
Starting from Rs 141,500 per couple including 2 nights' stay in a 62 sq. metre room, breakfast and taxes.
Contact us at

[email protected]

for availability and bookings.
Tilar Siro Andamans, a CGH Earth Experience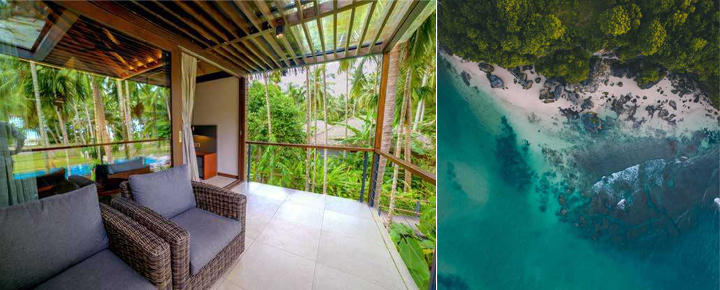 CGH Earth's latest resort, Tilar Siro Andamans opens this Christmas Season at Havelock in the Andaman & Nicobar Islands. Tilar Siro, meaning the land emerging from the sea, was the name given to the Island by the original inhabitants of the Andaman archipelago. Hosting 25 rooms that stand on stilts with minimalistic luxury, this latest addition to CGH Earth exudes warmth, an understated elegance and a sense of calm. You are met with stunning views regardless of where you are in the resort, be it the open-air deck, the pool, the restaurant, the lounging space, or the balcony of your room.
Tilar Siro opens its doors to guests from 22nd Dec '21.
Contact us at

[email protected]

for introductory prices.
Aalia Jungle Bandarjudh, Rajaji National Park

India's glamping pioneers, The Ultimate Travelling Camp, now marks it's footprints in Uttarakhand with Aalia Jungle Bandarjudh which is located in the buffer zone of Rajaji National Park, a tiger Reserve nestled in the Shivalik mountain range at the foothills of the Himalaya' near Haridwar, Rishikesh and Dehradun with Ganga and Song rivers, flowing through the jungle. The luxury camp offers an exquisite location with 11 luxury tents offering unmatched hospitality. TUTC's signature experiences combines the ultimate in luxury with a fascinating and immersive way of getting up close and personal with the best of India's magnificent wildlife in Rajaji National Park.
Introductory prices start from Rs 59,000 per couple including 2 nights stay in a 800 sq ft. luxury tent, all meals served at the camp restaurant, 1 safari to Rajaji National Park, cycling trip in the woods and taxes.
Contact us at

[email protected]

for availability and bookings.
Aramness Gir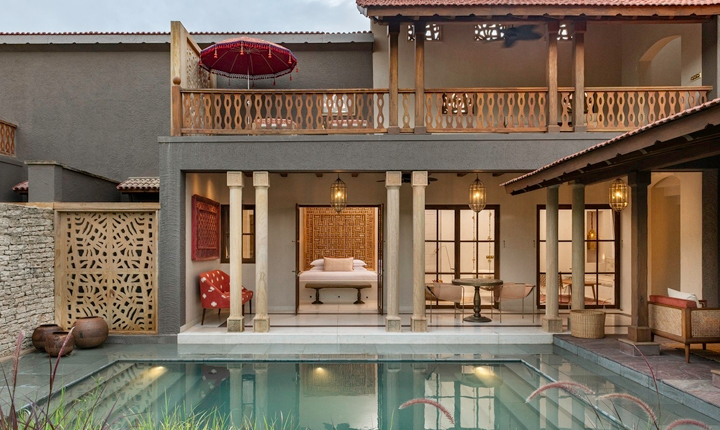 Located at the edge of Sasan Gir National Park in a protected teak forest, Aramness is a new luxury safari lodge that raises the bar on luxury wilderness experience in India. This forest is home to abundant bird and animal species that freely roam between the park, forest and the lodge. At Aramness, you will discover the finest accommodation, warm, gracious hospitality and sensitive, well-trained guides. The lodge has 18 suites, called kothis which is a spacious double storey building with either one or two ground floor bedrooms, a sitting room, a luxurious and spacious bathroom with a tub and shower, as well as an outdoor shower.
Introductory prices start from Rs 150,000 per couple including 2 nights stay in a luxury kothi, all meals, butler service, twice daily wildlife adventures, excursions to the local village, visit to a Maldhari family and taxes.
Contact us at

[email protected]

for availability and bookings.
Vivanta Sikkim, Pakyong (Gangtok)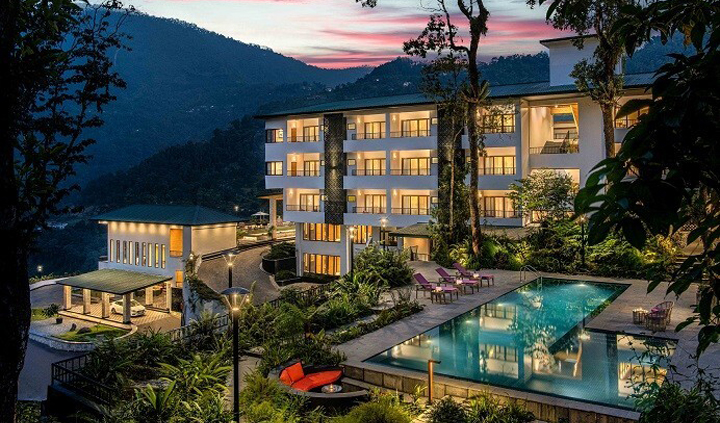 Located in the foothills of the Himalayas, Vivanta Sikkim, Pakyong sits amidst lush, terraced paddy fields and dense Bamboo forests. A winding private road leads you up the picturesque valley setting, where guests are greeted by the sounds of gushing streams that flow through the property – a rare natural feature for any hotel across the world. The newest resort from the Taj Group opens on 30th Nov with 50 elegant rooms and suites with magnificent views of the valley and the snow-peaks. A quiet, centrally located Zen Garden, Sky Lounge, Multi- Cuisine restaurant and a temperature-controlled pool add to the experience of this beautiful quaint destination.
Introductory prices start from Rs 35,500 per couple including 2 nights stay in a deluxe room, breakfast and taxes.
Contact us at

[email protected]

for availability and bookings.
To plan your luxury escape, please contact us at


[email protected]

urs.live or call us at 020-66442929