Corporate Newsletter September 2023 (1.0)
Dear Patron,
Greetings from UNIGLOBE Odyssey Travel!

A summary of the new developments in the world of travel includes: Akasa Air gets the nod from DGCA to fly overseas, Air France-KLM & Etihad expand their partnership, Indigo & BA enter into a code share agreement, Vistara announces 6x direct flights between Mumbai and Frankfurt from Nov, UK hikes visa fee for visitors & students, China has eased its visa regulations for Indian citizens. These are more updates in our September edition.
News at a Glance: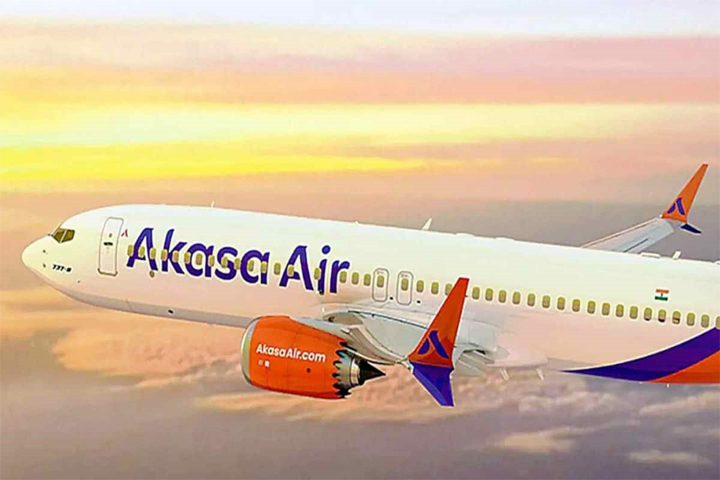 Akasa Air get DGCA nod to fly overseas - plans first intl. flight in December:
After getting its 20th aircraft in its fleet, Akasa Air has obtained approval from the Union Civil Aviation Ministry to commence international flights. The airline is eyeing destinations within the range of a Boeing 737 MAX aircraft from India, targeting regions in South Asia, Southeast Asia, and the Middle East for its international foray by the end of this year.
Akasa is on course to announce an order for a three-digit number of aircraft by the end of this year to meet the growing demand for air travel. The airline is currently grappling with a pilot crisis and operational scare after a group of pilots left the airline without serving their mandatory contractual notice period, causing disruptions and lastminute flight cancellations.
Air France-KLM & Etihad expand partnership to enhance passenger experience:
Air France-KLM Group and Etihad Airways signed a MOU to expand their existing codeshare and interline agreements and have made over 40 new routes available for booking, covering destinations across Europe, the Middle East, Asia Pacific, and Australia. These routes are open for travel starting from the winter 2023 season.
Additionally, the MoU proposes mutual benefits for frequent flyers of both Flying Blue and Etihad Guest programs. Passengers will have the opportunity to earn and redeem miles with Air France, KLM, and Etihad. The airlines are also exploring the possibility of terminal co-location, reciprocal lounge access, and ground handling, among other collaborative initiatives.
UK visa fee hike for visitors, students with effect from Oct 4:
The British government has announced a proposed hike in visa fees where a visit visa for under six months will cost GBP 15 more and student visas will be GBP 127 more expensive for travellers from around the world, including Indians. The new visa fees will become effective from October 4.
The changes mean that the cost for a visit visa for less than six months will rise to GBP 115 and the fee for applying for a student visa from outside the UK will rise to GBP 490 to equal the amount charged for in-country applications.
China scraps Covid-19 testing for incoming travellers:
Starting Aug 29, China will no longer require a negative Covid-19 test result from incoming travellers.
In addition, China recently announced that it has temporarily eased its visa regulations for Indian citizens where biometric data (fingerprints) will no longer be required until December 31, 2023 for travellers applying for business (M), tourism (L), short-term family visits to Chinese citizens (Q2), transit (G), and crew (C) visas.
News from Air India Group: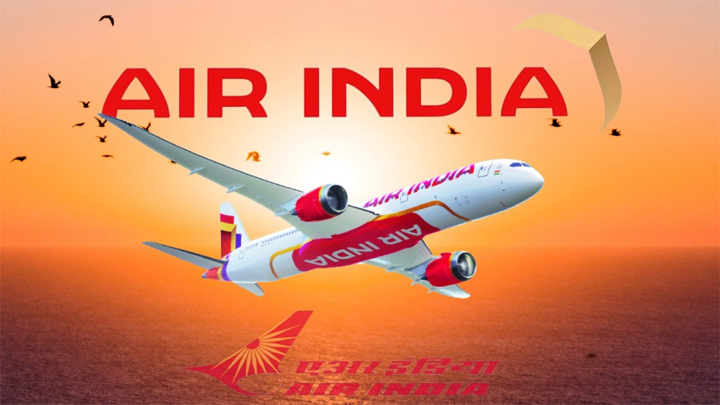 Air India starts Project Abhinandan at 16 airports including Pune:
Air India has rolled out 'Project Abhinandan' aimed at providing personalised and hassle-free on-ground experience to Air India guests at 16 airports including Pune. As part of the project, Air India has deployed specially trained Service Assurance Officers (SAO) at these airports, who will offer on-ground assistance across airport touchpoints to Air India guests who may require it – at check-in area or lounges, near the boarding gates, during transit, or at the arrival hall. The SAOs are also trained to address unforeseen issues such as missed flights, delayed baggage delivery and misconnections at airports, among others.
The Service Assurance Officers are available at the airports in addition to the other Air India and ground handling agencies' staff. Air India has already recruited and deployed over 100 Service Assurance Officers across airports.
The 16 airports where the service has been launched includes Ahmedabad, Bengaluru, Calicut, Chennai, Delhi, Goa, Guwahati, Hyderabad, Kochi, Kolkata, Lucknow, Mumbai, Nagpur, Pune, Varanasi and Vishakhapatnam.
Air India Express, AirAsia India in interline arrangement for 100 routes:
To achieve seamless integration, Air India Express and AirAsia India announced the commencement of interline bookings from Sep 18. As a result, passengers will now be able book a single itinerary across both airlines on connecting flights in a single PNR. For instance, with the interline arrangement, passengers can book a Lucknow- Delhi-Sharjah itinerary under a single PNR and receive their boarding passes for both Lucknow to Delhi and Delhi to Sharjah, at the beginning of their journey in Lucknow itself.
This interline arrangement gets the two airlines one step closer towards the full merger. With a combined fleet of 54 aircraft, both airlines together connect 44 destinations, operating over 250 routes across India, the Middle East and Southeast Asia. The airlines have already integrated ancillary add-on services and sub-brands, such as Gourmair in-flight dining, Xpress Prime seating, and Xpress Ahead priority services.
Following the recent launch of Air India's new logo and livery, the Tata group is also set to introduce a fresh brand identity for Air India Express by October
Air India announces interline partnership with Bangkok Airways:
Air India, owned by the Tata Group, has announced an interline partnership with Bangkok Airways which allows Air India travellers to get easy connections via Air India's Bangkok, Hong Kong, and Singapore gateways to and from ten destinations in Thailand, Laos, and Cambodia on Bangkok Airways' route network which includes Chiang Mai, Lampang, Sukhothai, Trat, Koh Samui, Phuket, and Krabi. The points outside of Thailand include Luang Prabang in Laos, and Phnom Penh and Siem Reap in Cambodia.
The agreement between the two airlines includes the implementation of Inter Airline Through Check-In (IATCI), which makes it possible for travellers to receive their boarding passes at the first point of departure for all travel sectors on a single ticket. Moreover, travellers can have their baggage checked-in through to their final destinations.
Domestic Travel Updates: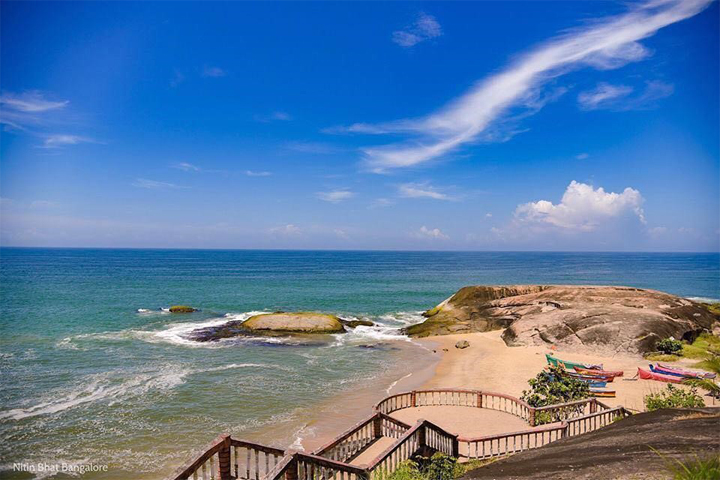 Indigo announces additional flight to Chennai from Pune:
With effect from Sep 5, Indigo has announced an additional flight between Chennai and Pune with the following schedule:
| Flight No. | Origin | Departure | Destination | Arrival | Frequency |
| --- | --- | --- | --- | --- | --- |
| 6E 225 | Pune | 20:55 | Chennai | 22:40 | Daily |
| 6E 224 | Chennai | 05:00 | Pune | 06:45 | Daily |
IndiGo changes timings of Pune to Mangaluru & Visakhapatnam flights:
Earlier, IndiGo had red-eye flights connecting Pune-Mangaluru and Pune-Visakhapatnam. With effect from 5th Sep, timings of the flights to both the sectors have been changed to more traveller-friendly times as per below schedule:
Pune - Mangaluru:
| Flight No. | Origin | Departure | Destination | Arrival | Frequency |
| --- | --- | --- | --- | --- | --- |
| 6E 294 | Pune | 16:30 | Mangaluru | 17:50 | 2,4,7 |
| 6E 357 | Pune | 07:45 | Mangaluru | 09:05 | 6 |
| 6E 298 | Mangaluru | 18:35 | Pune | 19:55 | 2,4,6,7 |
Pune - Vishakapatnam:
| Flight No. | Origin | Departure | Destination | Arrival | Frequency |
| --- | --- | --- | --- | --- | --- |
| 6E 256 | Pune | 07:15 | Vishakapatnam | 09:10 | 2,4,7 |
| 6E 257 | Vishakapatnam | 09:40 | Pune | 11:30 | 2,4,7 |
Furthermore, flights between Pune and Rajkot began operation on September 6, 2023, with additional flights scheduled between Pune and Hirasar from October 2, 2023.
International Travel Updates: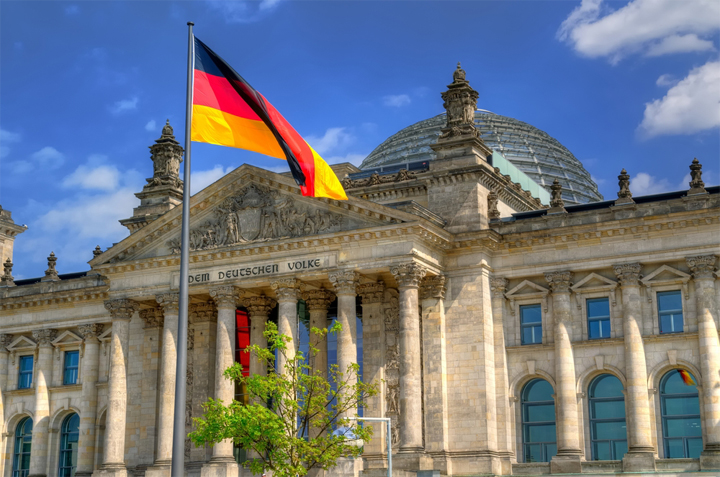 Vistara launches 6x weekly flights between Mumbai and Frankfurt:
Vistara has been growing its presence from Mumbai, connecting the city to 12 international destinations, including Abu Dhabi, Bangkok, Colombo, Dammam, Dhaka, Dubai, Jeddah, London Heathrow, Male, Mauritius, Muscat, and Singapore.
The latest addition is Frankfurt where the airline will offer 6x weekly flights between Mumbai and Frankfurt from Nov 15 as per the schedule below: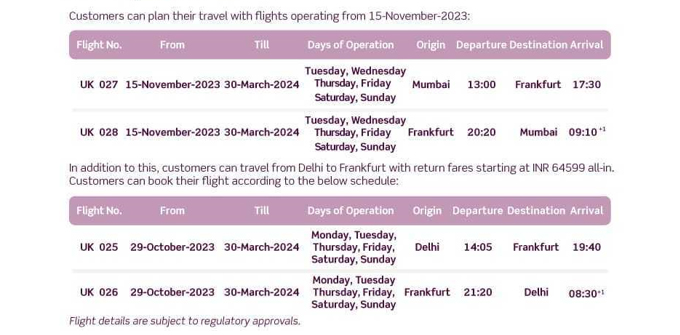 Azerbaijan Airlines to start direct flight between Baku & Mumbai:
Azerbaijan Airlines will operate twice-a-week flights between Mumbai and Baku starting in November. The airline has already been operating flights from Delhi to Baku twice-a-week since August and is now going to start direct flights from Mumbai too.
Emirates and Sri Lankan establish reciprocal interline partnership:
Emirates and Sri Lankan Airlines have signed a reciprocal interline agreement to boost connectivity for passengers of both airlines. The partnership will enable access to new points on each other's networks via Colombo and Dubai, utilising a single ticket and enjoying the convenience of baggage transfers.
Tickets are now on sale for travel effective immediately as the interline partnership unlocks 15 regional destinations operated by Sri Lankan Airlines via Colombo, for Emirates' passengers to choose from. Far East and South Asian destinations include Cochin, Chennai, Bangalore, Hyderabad, Malé, Bangkok, Kuala Lumpur, Singapore, Jakarta, Guangzhou, Seoul and Tokyo.
SriLankan Airlines' passengers are also set to benefit from access to Emirates' global network and connect to 15 cities operated by Emirates beyond Dubai that includes Bahrain, Amman, Dammam, Medina, Cairo, Muscat, Nairobi, Moscow, Tel Aviv, and a host of US cities including New York JFK, Los Angeles, San Franciso, Chicago, Boston and Houston.
IndiGo and British Airways strengthen India-UK air connections with codeshare agreement:
India's biggest carrier in terms of fleet size and market share, IndiGo has joined forces with British Airways, to enhance air connectivity between India and the United Kingdom. This strategic partnership, established through a codeshare agreement, is set to improve travel options for passengers starting from October 12, 2023.
Under this collaboration, British Airways will integrate its code onto several key destinations within IndiGo's expansive network, enabling passengers to benefit from more seamless connections between India and the UK. The airline currently operates 56 flights weekly to five major Indian cities - Delhi, Mumbai, Chennai, Bangalore, and Hyderabad. As part of this codeshare initiative, British Airways will include the following routes to their existing network:
Amritsar to London Heathrow via New Delhi
Kochi to London Heathrow via Mumbai
Ahmedabad to London Heathrow via Mumbai
Goa to London Heathrow via Mumbai
Thiruvananthapuram to London Heathrow via Mumbai
Kolkata to London Heathrow via Mumbai
Rajkot to London Heathrow via Mumbai
Vadodara to London Heathrow via Mumbai
This agreement simplifies travel for passengers embarking on journeys like Rajkot to London or those transiting through London Heathrow. They will now have the convenience of booking a single ticket to their final destination.
IndiGo, known for its comprehensive domestic and regional network utilising A320 aircraft, will extend special benefits to British Airways customers traveling onward with them. Passengers will enjoy a complimentary meal and British Airways' generous baggage allowance in the economy class, which includes two checked bags, each weighing up to 23 kilos per person.