Odyssey Explore, our division specialising in small group tours has announced three curated tours in 2018 so far – to Israel and Jordan in March, Ranthambore in end March-early April and Morocco in October. More tours are being planned this year so watch this space!
Odyssey Explore presents a wonderful opportunity to travel with like-minded people to either off- beat destinations OR popular destinations, but done differently. Make new friends on these small curated tours, explore all the must see sights with enough free time on hand, gain deeper insights about the destination with our experienced tour guides, savour the local cuisine and enjoy an immersive experience of the destination!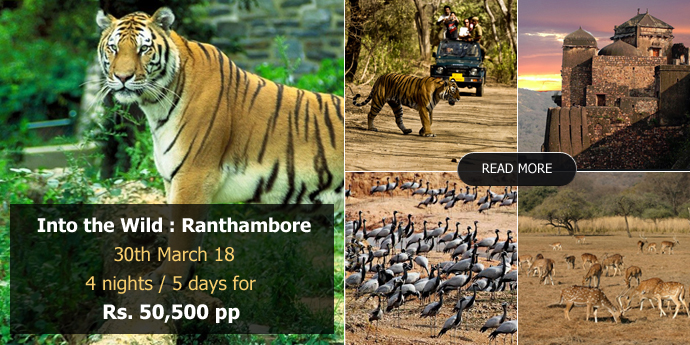 Once a famous hunting ground of the Maharajas, Ranthambhore today is one of the go to National Parks to see the Royal Bengal Tiger. Spread over 1300 kms and home to a Unesco World Heritage site Fort, Ranthambhore is a must visit place for any wildlife lover.
This uniquely special Odyssey Explore tour will offer you more than just a wildlife experience! You will be accompanied on this trip by Mr Srikanth Sarathy, a wildlife enthusiast, traveller and photographer. Through his travels and his extensive, wonderfully written blog (sswildlifewander.blogspot.in), he aims to inspire more people to visit our wonderful forests and fall in love with them, just as he has.
Treat your family this Easter holiday to Odyssey Explore's 4 night Ranthambore safari tour departing on 30th March '18 for Rs 50,500 per person which includes:
Accommodation in a 4 star lodge for 4 nights
Daily Breakfast, lunch and dinner at the hotel
Airport transfers to and from Jaipur airport at the time specified
Game Drives / Safari's
Photography sessions as mentioned, including the review sessions
Soot Art Workshop
A visit to Ranthambhore Fort
Service of an Odyssey Tour Escort to and from Jaipur
For the detailed itinerary and terms of booking and payment, click here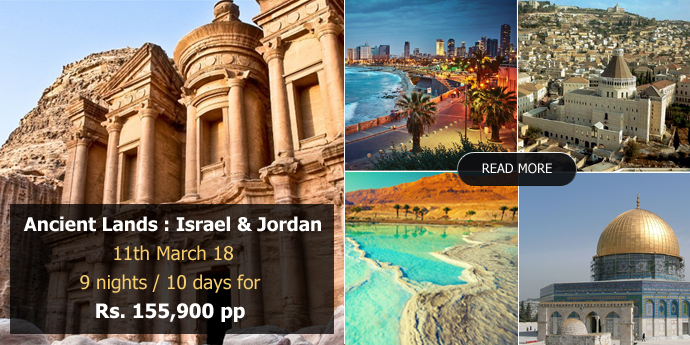 Explore ancient civilizations, history, cultures and traditions – and the threads that bind them together. Explore Israel's ancient history and its tumultuous past going back thousands of years and discover hidden treasures in Jordan. Experience bustling, modern day Tel Aviv, sail the sea of Galilee and the city of Nazareth, swim or float in the Dead Sea, behold magnificent Petra in Jordan and be fascinated by the mix of cultures and religions in the Golden City of Jerusalem. You will find yourself on an unforgettable, authentic journey to Israel & Jordan.
Seats are fast filling for this once-in-a-lifetime tour! Departing on 11th March '18, the 9 nights/10 days tour of Israel and Jordan costs Rs 155,900 pp and includes:
9 nights' accommodation in the 4 star hotels mentioned or similar
Transportation in a private vehicle for the entire duration of the trip
Daily Breakfast & Dinner
Local English speaking guide
Wooden boat ride on the Sea of Galilee
Entrance fees where applicable
Porterage at the hotels
Israel & Jordan Border Taxes
VIP Pass for the Border Crossing at S.Hussein Border
Wadi Rum entrances & Jeep tour
Services of an Odyssey Tour escort
For the detailed itinerary and terms of booking and payment, click here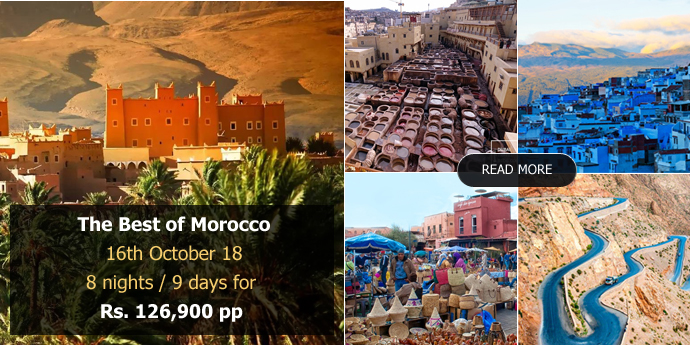 The Arabs call Morocco "the farthest land of the setting sun". Morocco has a history stretching back nearly 10,000 years. It has been crisscrossed by Roman legions, Berber caravans and Muslim scholars and offers a wonderful balance of ancient traditions and modern-day life. Discover the world's largest medieval medina within the walls of old Fez, the cultural heart of Morocco. Visit the blue-washed town Chefchaouen. Traverse the Atlas Mountains on your way to Marrakech, where you will experience the labyrinthine souks of the Djemaa El Fna medina, a swirling carnival of musicians, fire-eaters, storytellers and snake charmers. Experience stunning and varied landscapes, unique cultural interactions and a host of extraordinary moments on our tour of Morocco.
This fascinating tour of Morocco covering Casablanca, Fez, Erfouz, Dades & Marrakech over 9 days is priced at
Rs 126,900 per person and includes:
8 nights' accommodation in the 4 star hotels mentioned or similar on a twin-sharing basis
Transportation in a private vehicle for the entire duration of the trip
Daily Breakfast and Dinner
Local English speaking guide
Sightseeing tours with an English speaking guide as mentioned
Entrance fees where applicable
Services of an Odyssey Tour escort
For the detailed itinerary and terms of booking and payment, click here


Curated group tours to off-beat destinations or popular destinations done differently
Travel with like-minded people
Smaller group size between 15 to 20 people which gives a wonderful opportunity to make new friends
Tours include all the must see sights yet gives you enough free time to make it a relaxed trip
All tours include breakfast and a mix of local and Indian dinners, vegetarian and non-vegetarian
Flexibility to book airline tickets as per your travel plans that could include pre and post stays
All groups will be escorted by an Odyssey Tour Leader
Porterage in the hotels is included on most itineraries
Watch this space for more tours in 2018! click here