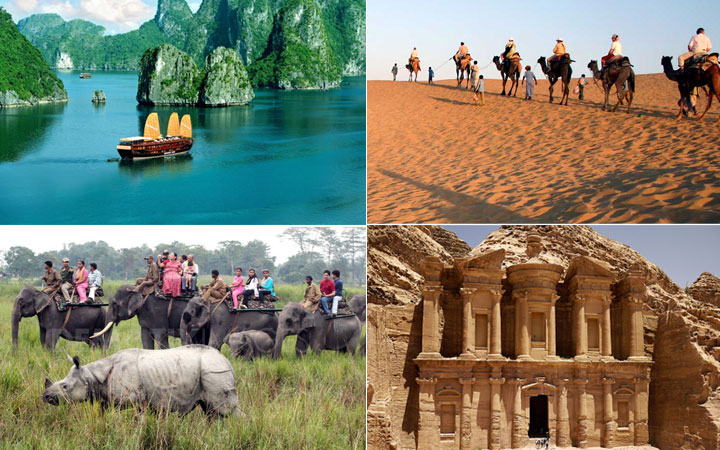 The festive season is fast approaching and its time to plan your Diwali and Christmas break. We have popular holiday options in Bali, Mauritius, Rajasthan and Kerala and some off beat options in Oman, Jordan, The Seven Sisters of North East India and more. Plan your winter holiday now and lock in the airfares before they skyrocket and hotels get sold out!

Experience Bali with its varied landscape of forested volcanic mountains, iconic rice paddies, beaches and coral reefs. It is a paradise with religious temples and relaxing spas. The island is also known for its yoga and meditation retreats. There is no other place like Bali!
Take a trip for 5 nights at the Sheraton Kuta Resort from US $ 399 per person which includes cultural experience and relaxing Balinese Massage. Learn more >>

Maldives is known for its beaches, blue lagoons and extensive reefs. Conveniently located just 7km from Malé International Airport, Bandos Island Resort is an idyllic one which has 215 rooms, sumptuous dining and a wealth of leisure options – a perfect setting for a romantic getaway or peaceful escape.The turquoise of the lagoon, lush green vegetation, pearl white beaches, azure blue sky and abundant golden sunshine create a feeling of perfect tranquility.
Enjoy a 3 nights stay at Bandos Island Resort in a Garden Villa with breakfast & speed boat transfers. from just US $ 659 per person. Learn more >>

The Sultanate of Oman has one of the oldest civilizations in the Arabian Peninsula, dating back thousands of years with notable periods of greatness in the ancient world and in medieval times. The port capital, Muscat, is home to the massive, contemporary Sultan Qaboos Grand Mosque, and the old waterfront Muttrah quarter, with a labyrinthine souk and busy fish market.
Enjoy the highlights of Oman staying 2 nights at Muscat and 1 Night at Wahiba Sands including breakfast, transfers, Muscat city tour, Turtle watching and Sand dune ride from US $ 1289 per person. Learn more >>

Singapore is a subtle balance of Eastern culture and cuisine and Western comforts. Discover entirely unexpected and unique ways to have fun in this energetic, vibrant and cosmopolitan city. With endless entertainment options, quality shopping and cultural treasures, this trendy city is where the world comes together for pure pleasure.
Just a short ferry ride from Singapore, accommodation at Club Med Bintan Island offers astounding raw natural beauty and endless ways to rejuvenate body and soul. Club Med Bintan has so many water and land sports options, plus artistic and cultural activities for kids aged 2 to 17 years. This stunning island is a perfect family destination.
Enjoy a week's holiday with 4 nights stay in Singapore & 2 nights stay at Club Med Bintan Island from just US $ 939 per person! Learn more >>

Vietnam is well-known for its Buddhist pagodas, rivers beaches, and bustling cities. Hanoi, the capital of Vietnam and the second largest city, is known for its centuries-old architecture and a rich culture with Southeast Asian, Chinese and French influences.
Cambodia is a Southeast Asian nation with low-lying plains, the Mekong Delta, mountains and Gulf of Thailand coastline. Phnom Penh, its capital, is home to the art deco Central Market, glittering Royal Palace and the National Museum's historical and archaeological exhibits. In the country's northwest are the ruins of Angkor Wat, a massive stone temple complex built during the Khmer Empire.
Discover the cultural & architectural Vietnam & Cambodia on this 9 nights tours from just US $ 899 per person
Learn more >>

Jordan, an Arab nation on the east bank of the Jordan River, is defined by ancient monuments, nature reserves and seaside resorts. It is an ideal destination for a one-week adventure tour. Bursting with things to see and do, this activity based one-week holiday includes the best of what this magnificent country has to offer, visiting all the major sites of interest.
Enjoy two full days to explore the spectacular 'Rose-red city' of Petra and a guided visit around Jerash, one of the best preserved Roman cities in the Middle East. There is time to 'float' in the salty waters of the Dead Sea and snorkel (optional) over the beautiful coral reefs of the Red Sea. You will also explore the fabulous scenery in the desert at Wadi Rum, where we take a 4WD excursion into the more remote regions and camp out like the Bedouin. This fantastic tour starts from Rs 67,675 per person! Learn more >>

Experience historic cities in North India with its varied historic monuments in Delhi, Agra, Varanasi & Khajuraho. On the tour, visit the monuments like Jama Mashid, Qutub Minar, Humayun's tomb, Red Fort & India Gate in Delhi, Taj Mahal and Agra Fort in Agra, Forts and temples in Orchha & Khajuraho and the Ghats of Varanasi.
Discover historic India on this 07 nights tour from just Rs. 33,000 per person which includes stay, breakfast, sightseeing in a exclusive vehicle and hotel taxes.
Contact us for more details

The very images that Rajasthan conjures up are steeped in romance and beauty. A line of supercilious camels silhouetted against a magnificent desert sunset, a blur of swirling color as a Rajasthani belle dances to hypnotic music, the unyielding façade of a splendid fort, or the delicate kiosks and balconies embellishing a palace wall. Rajasthan is a land of sparkling images, once seen never forgotten.
Experience the best of Rajasthan on this 9 days tour staying 2 nights each in Jaipur, Jaisalmer and Udaipur and 1 night each in Bikaner and Jodhpur. This 8 nights / 9 days holiday starts from Rs 38,000 per person including stay, breakfast, sightseeing in exclusive vehicle and hotel taxes.
Contact us for more details

If you want to see nature's real beauty then a visit to North East India is a must. Consisting of 7 states also called 'Seven Sisters' North East India has some real surprises for the travelers coming here. Not so much established on the travellers map, yet the North Eastern India, has its own charm that will sweep you off your feet. Come here for once and lose yourself in its charismatic magic.
Enjoy the best of North East India on this 8 nights tour with stays in Shillong, Tezpur, Dirang, Tawang, Bomdila and Guwahati for just Rs. 47,750 per person onwards including stay, breakfast, sightseeing and transfers in exclusive vehicle, all permits and hotel taxes.
Contact us for more details

Welcome to Kerala, God's Own Country. Few states in India are so intoxicatingly green, so lavishly endowed with natural beauty. Kerala is one of the ten 'Paradises Found' by the National Geographic Traveler, for its diverse geography and overwhelming greenery.
Enjoy the Best of Kerala on a 07 nights tour with stays in Cochin, Munnar, Thekkady, Kumarakom and Kovalam for just Rs. 25,250 per person onwards including accommodation in 3 star hotels, breakfast, all meals onboard the houseboat in Kumarakom, sightseeing and transfers in an exclusive vehicle and hotel taxes.
Contact us for more details

Aavo Padharo, words of welcome in the language of Gujarat because it is here that these words ring truly and the guest is 'God'. Gujarat is renowned for its beaches, temple towns and historic capitals. Wildlife sanctuaries, hill resorts and natural grandeur are gifts of Gujarat. Sculpture, handicrafts, arts, festivals also make the state rich.
Enjoy the Best of Saurashtra with Ahmedabad, Gir, Diu, Somnath, Dwarka and Rajkot for 06 nights for just Rs. 32,700 per person onwards including stay, breakfast, sightseeing and transfers in exclusive vehicle and hotel taxes.
Contact us for more details

Ooty, also known Queen of the Hills is an extremely popular hill station in Nilgiris. Surrounded by trees, central Ooty Lake is a huge artificial expanse of water with pleasure boats. On the slopes of nearby Elk Hill, the Rose Garden is home to over 2,000 varieties of roses. The Government Botanical Garden, created in the 19th century, features ferns, orchids and a prehistoric, fossilized tree.
With Jet Airways starting a direct flight from Pune to Coimbatore, Ooty is easily accessible from Pune. The Jet flight from Pune departs at 2355 hrs and arrives in Coimbatore at 0145 hrs and the return flight from Coimbatore is at 0305 hrs and arrives in Pune at 0455 hrs.
Relax in this beautiful hill station for 3 nights along with 2 nights stay at Kurumba Village Resort from just Rs. 31,000 per person including stay, breakfast in Ooty and all meals at Kurumba, sightseeing & transfers in an exclusive vehicle and hotel taxes.
Contact us for more details